Bringing Cats, Dogs & Other Pets To Fiji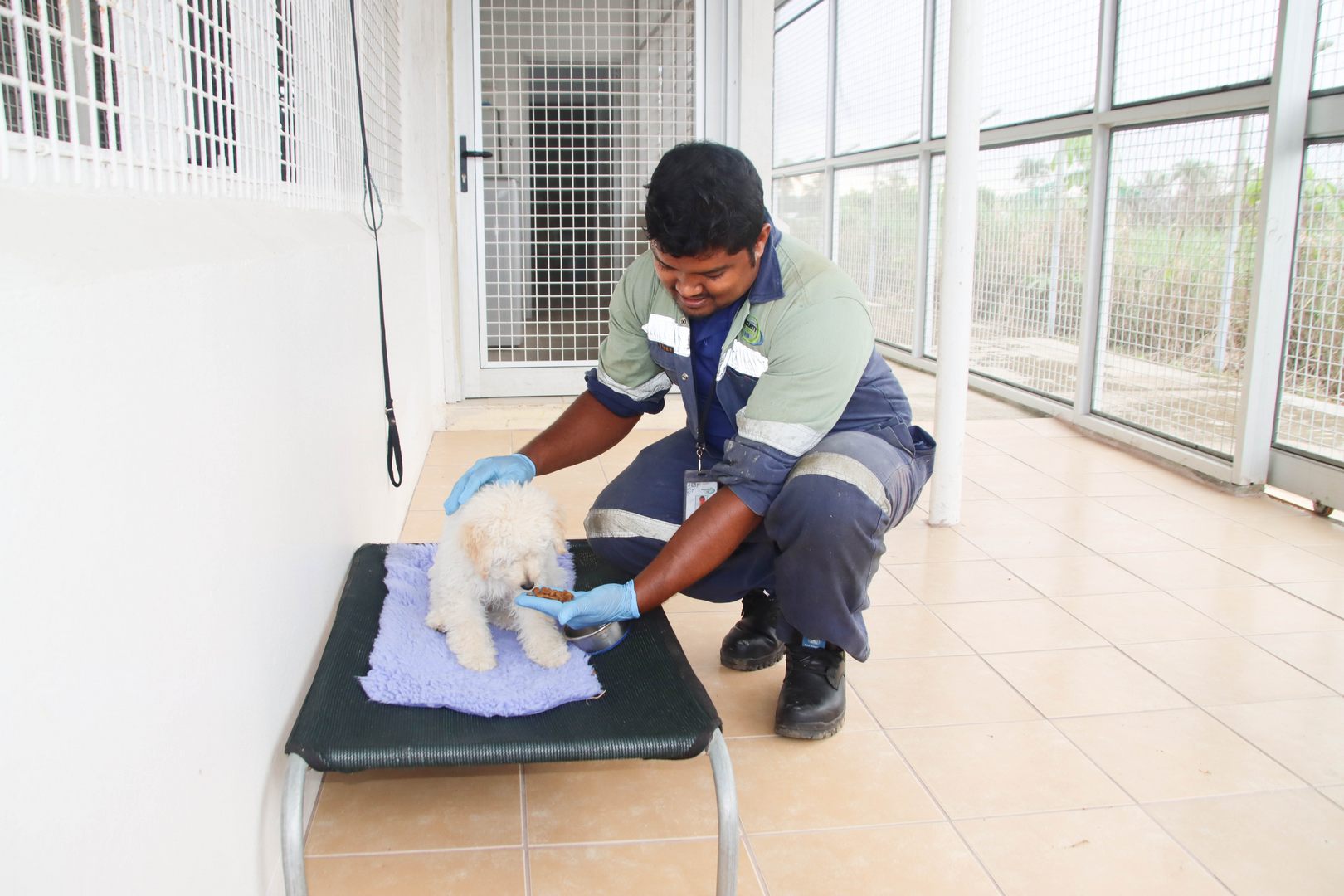 MOVING PETS TO FIJI
The major concern with pets or domesticated animals being brought into Fiji is the potential transmission of diseases; particularly exotic and zoonotic diseases such as rabies. Rabies is a deadly viral infection that can be spread from the infected animals to humans. The introduction of this disease would have serious consequences for Fiji's animal and human health.
Fiji is free of deadly diseases like rabies and foot & mouth (FMD) and it is important that we maintain this status. As such, the Biosecurity Authority of Fiji (BAF) has strict biosecurity controls on import of domesticated animals (dogs and cats) into Fiji to help prevent the introduction of foreign diseases.
Before arrival into Fiji
Find below a brief description of procedures that pet owners need to follow when planning to bring pet animals into Fiji.
Apply for a BAF import permit
One of the first requirements for bringing pets (dogs and cats) into Fiji is to apply for an import permit with BAF. Application forms for the import permit can be accessed from our website www.baf.com.fj or via email: info@baf.com.fj or animalimports@baf.com.fj. Completed application forms can be emailed back to BAF or faxed on (679) 3305043. There is a fee applicable to obtain an import permit and should be paid when lodging the application. It takes the BAF Animal Permits Team approximately 5 working days to process applications for import permits.
Once the applications are processed, BAF will send the applicant an import permit outlining conditions that the applicant needs to meet to allow BAF to determine whether the dog or cat intended to be imported will pose no risk to other animals or humans in Fiji. Import conditions will differ depending on the country from which the animal is coming from. Import permits also include forms that must be completed and certified by a registered or government veterinarian from the country the animals are exported from.
The animal will only be allowed into Fiji when all conditions stipulated in the import are met. All import permits to import live animals (pets) are valid for six months, so the pet must arrive in Fiji within the six months or on the date the permit expires. Pet owners should also ensure that the original import permit is with the animal when it arrives in Fiji. Apply for the import permit well in advance of the animal's arrival so that you have time to organise tests and obtain test certificates/veterinary certifications that must accompany the animal when it arrives into Fiji.
All animals entering Fiji will require various treatments an tests prior to leaving country of origin the tests depend on the country.  Duration between treatments will be outlined in the permit.
Pre-export inspection
Transporting the animal to Fiji – animals should be transported directly (or via the most direct route) to Fiji. The official seals on the crates must remain intact upon arrival into Fiji. Please check with your airline or handling agent to ensure that the aircraft bringing your pet is not carrying any animals from other countries. Once the animal has arrived into Fiji, it should be transported immediately to BAF's Post Entry Quarantine (PEQ) station in Koronivia, Nausori.
Prior notice of the arrival of the animal should be given to the BAF office at the Nadi International Airport (+679-6720053) and to the Chief Veterinary Officer (CVO) (+679-3312512) for quarantine clearance and arrangement of accommodation at PEQ.
DOCUMENTATION
All animals arriving into Fiji must have with them the following documents:
Original import permit issued by BAF
Health certificate from the home country
Copies of veterinary certificates from the animal's home country completed by a registered veterinarian including all laboratory results
Vaccination records
Identification – all animals must also be identifiable by a microchip that can be read by an AVID, TROVAN, DESTRON or other ISO-compatible microchip reader. Identification is important as it helps in reuniting the pet owner and the pet if they get separated.
AFTER ARRIVING IN FIJI
One of the mandatory quarantine requirements that all animals have to go through after they arrive into Fiji is post entry quarantine.
Post Entry Quarantine (PEQ)– provided that all other conditions of importation have been met and all BAF fees have been paid, all animals brought into Fiji need to undergo a mandatory quarantine period at BAF's PEQ Station in Koronivia, Nausori. The mandatory quarantine period is to allow BAF to monitor for diseases that may not have shown symptoms during departure or arrival of the animal into Fiji. Booking for accommodation at the PEQ station should be done at least 1 month before the animal is to arrive. This can be done by calling the BAF office on +679-3312512 or emailing animalimports@baf.com or info@baf.com Animals will be released from PEQ after the minimum quarantine period given that they remain healthy throughout the post entry quarantine period and all fees for post entry quarantine screening are paid.
OTHER REQUIREMENTS
Some other requirements for animal transit and import that you must be aware of are:
Animals transiting through Fiji
Prohibited dogs and cats:
Dogo Argentine, Fila Brazileiro, Japanese Tosa, Pit bull terriers, including American pit bull terriers or crosses of any of these breeds are not allowed into Fiji. Serval cats, any breed of cats crossed with serval cats and any cat within 5 generations from original serval cat parentage are also prohibited from entering Fiji.
Cats and dogs below 4 months of age are prohibited and so are females more than 21 days pregnant at the time of being exported to Fiji.
Requirements for guide/service dogs being brought into Fiji
Request for guide/service dogs to be exempted from Biosecurity Authority of Fiji (BAF) requirements and quarantine will have to be submitted to the BAF veterinary section with all correct documentations. These requests are analysed on a case by case basis.